Is It A Good Time To Buy A Home In Northern Virginia?
Posted by Leanna Conoscenti on Tuesday, May 30, 2023 at 5:38 PM
By Leanna Conoscenti / May 30, 2023
Comment
Want some guidance to determine if buying makes sense for you personal situation?
Is It A Good Time to Buy A Home in Northern Virginia?
We're hearing from a lot of clients that they want to buy a house, but they are too nervous that it's a bad time to buy. My answer to them is it's a good time to buy a home if you need a place to live. I know that sounds like a bunch of Realtor balonge but let's take a look at some data to back it up.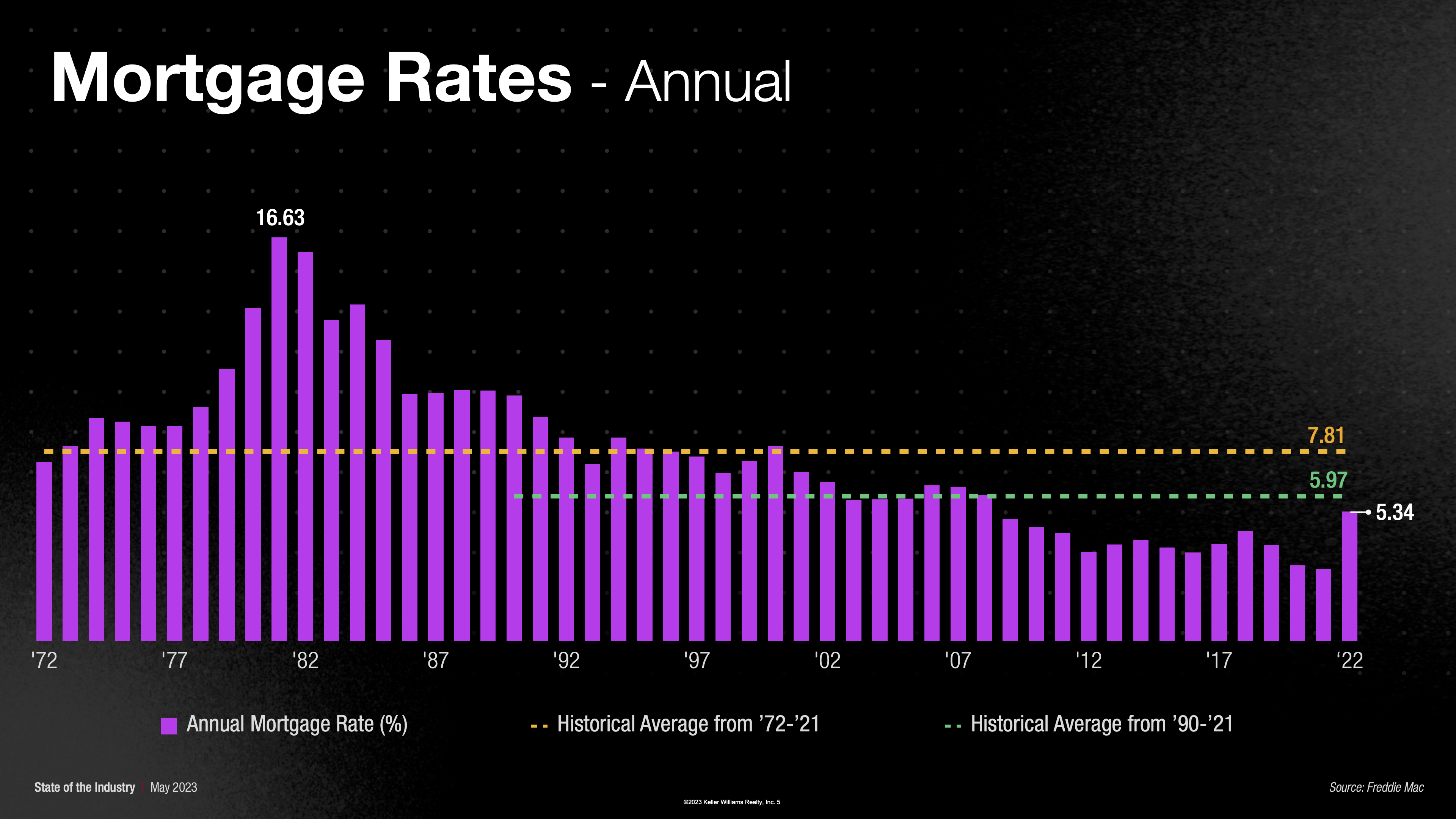 This chart shows the annual mortgage rates dating all the way back to 1972. The historical average from 1972-2021 was 7.81%. More recently, the average from 1990-2021 was 5.97%. The 2.5-3% rates that we were seeing in 2020 and 2021 were really outside the norm. Most major economists are predicting that rates will trend downwards, but the best-case scenario predictions are ending the year in the 5% range. Unfortunately, it is highly unlikely that we will see rates like we did in 2021 anytime soon.
Now let's look at inventory. Inventory is the number of homes on the market.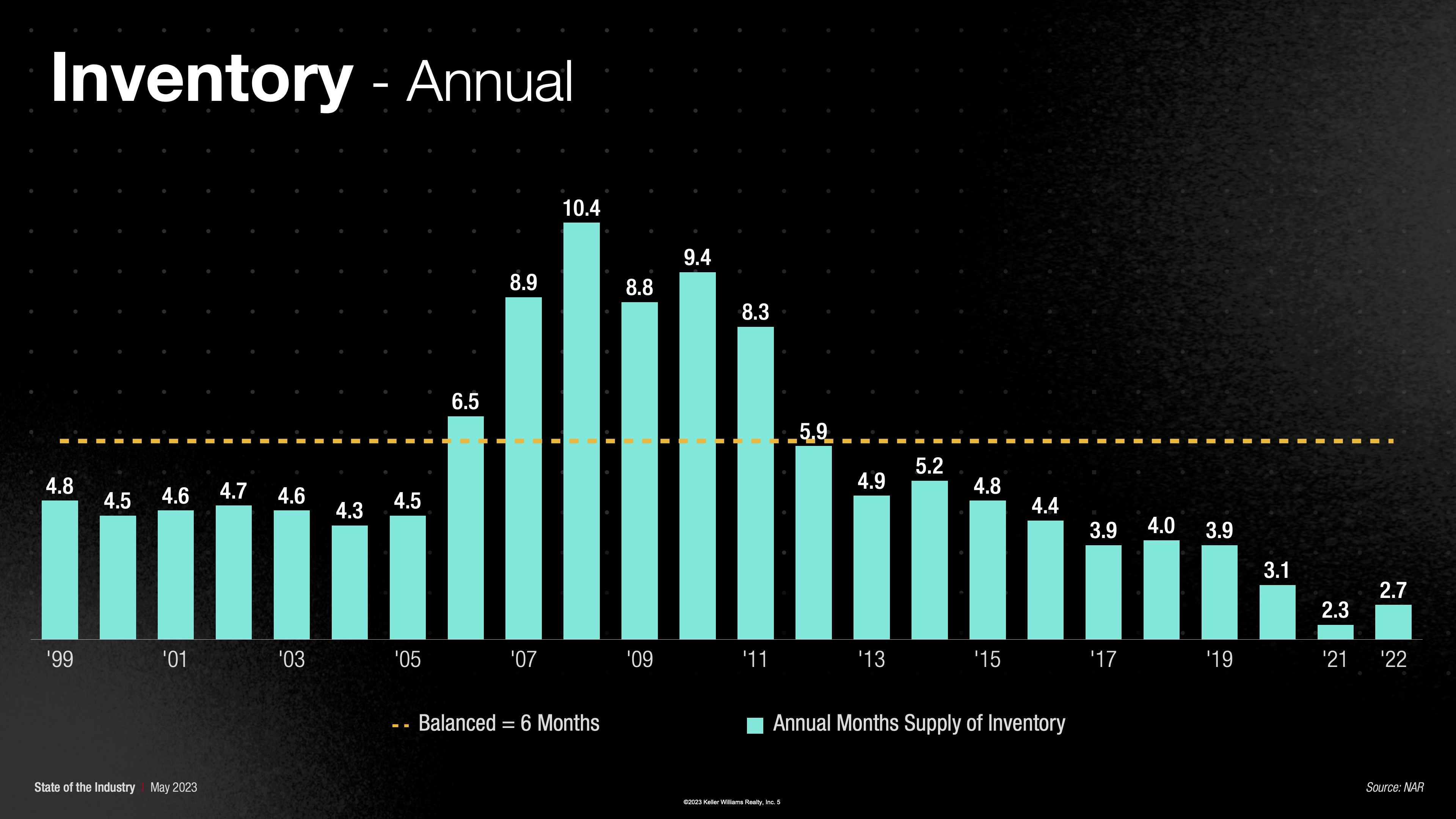 This chart shows the month's supply of inventory which is how many months it would take for every home on the market to sell based on the current pace of sales. 6 months' supply of inventory is considered a balanced market. Anything over that is more favorable to buyers and anything under is more favorable to sellers. We have been under 6 months supply of inventory for over 10 years and the biggest driver of that is the lack of new housing to keep up with buyer demand. When the subprime lending crisis came to a head, builders put the brakes on constructing new homes and have not been able to build at a pace that can keep up with demand ever since. It will be a long time before the gap is closed and this state of very low inventory is a key factor as to why most economists are not predicting a market crash soon.
Low inventory coupled with wildly low interest was also a driving factor in the frenzied market of 2020 and 2021. So if you wait for interest rates to get low, most likely that will increase buyer demand and you will be back to every house having multiple offers and purchase prices escalating well over asking.
Timing the marking is incredibly difficult and you are likely to waste a ton of money on rent and miss out on building equity while waiting for the "perfect" time. So if you are in a financial position to buy and you need a place to live, find a home you like that you will be comfortable in for more than just a couple of years so that you can ride out any unforeseeable bumps in the market. Make sure that you can afford the monthly payments right now, but keep an eye on interest rates and jump on an opportunity to refinance to lower your monthly payments. That way you can take advantage of lower rates while sitting on the sofa in your lovely home instead of joining the mass of buyers duking it out over limited homes for sale.
If you want some help assessing your personal situation to determine if buying makes sense for your goals, please reach out for a complimentary, no-obligation, no-pressure buyer consultation to help get you pointed in the right direction.